Meine Gemälde sind als eine Art Untersuchung zu verstehen, eine Suche nach dem Sinn der Malerei. Von diesem Sinn sind Materialwahl, Formwahl und Technik sowie das Sujet abhängig. In meinen Bildern verbinde ich Klischees "wertvoller" Kunst mit dem Rapport, also der Wiederholung, wie sie beim Stoff- oder Tapetendruck zur Anwendung kommt. Auf diese Weise vergrößere ich die Fallhöhe, der ich meine altmeisterlich anmutende Malerei aussetze. Zudem ist die Wiederholung eines Bildes für mich spannender als die bloße Umsetzung eines Entwurfes. Der Rapport gibt als kleinste Einheit einer zumindest gedanklich vorstellbaren Unendlichkeit sowohl eine Struktur als auch eine Referenz an das in der Nachkriegsmoderne eingeführte All-Over.
Die überwiegend barocken Sujets meiner Arbeiten entspringen meinem Lebensgefühl. Sie spiegeln mein Wesen deutlich besser als mein künstlerischer Ausgangspunkt, die Konzeptkunst. Dennoch ist und bleibt sie mein geistiges Zuhause. Sie ist die Basis, auf der ich aufbaue.
My work can be understood as a kind of investigation, a search for the meaning of painting. The choice of material, form and technique as well as the subject depend on this meaning. In my paintings I combine clichés of "valuable" art with a rapport, that is the repetition as used in fabric or wallpaper printing, the epitome of cheap. In doing so, I increase the drop height to which I expose my old-masterly painting. In addition, the repetition of a painting is more exciting for me than the mere rendering of a single image. The repeat, as the smallest unit of a potential infinity provides both a structure and a reference to the all-over introduced in postwar modernism.
The predominantly baroque subjects of my works spring from my attitude to life. They reflect my essence much better than my artistic starting point, conceptual art. Nevertheless, conceptual art is and will remain my mental home. It is the basis on which I build.

O. T., oil on canvas, 4 panels 140 cm x 95 cm (280 cm x 190 cm)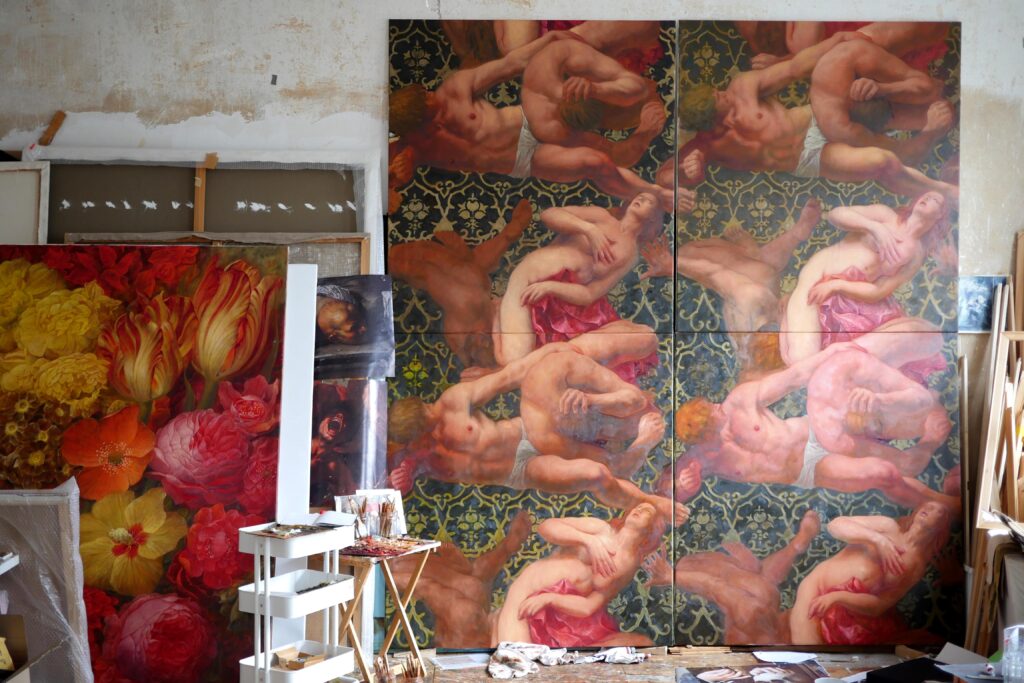 angels fall, acryl on canvas, 8 panels 140 cm x 100 cm (280 cm x 400 cm)

cross acceptance, oil on canvas, 12 panels 75 cm x 115 cm (300 cm x 345 cm)

Study of hands, oil on canvas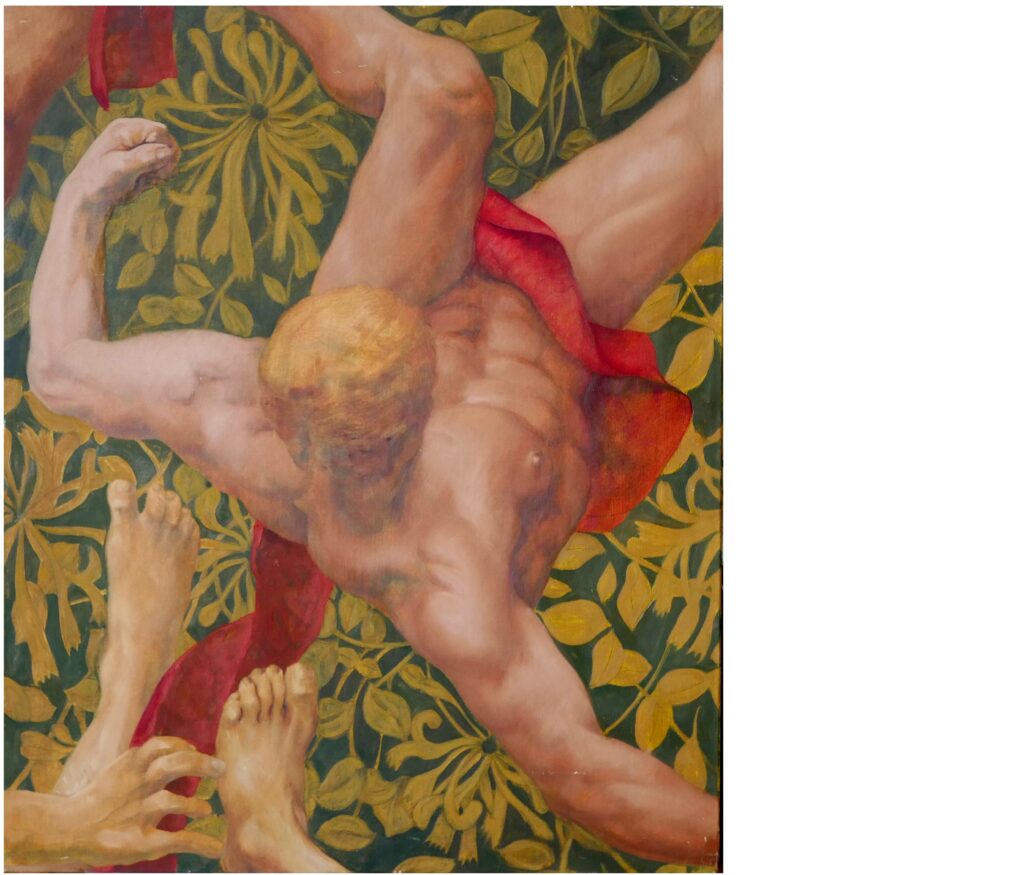 Dindia, oil on canvas, 4 panels 39 cm x 30 cm

Nora, oil on canvas, 3 panels 36 cm x 28 cm

Study of a horse's head, oil on canvas, 40 cm x 60 cm